HSA offers workshops, concerts, seminars, and panel discussions that explore the applied uses of storytelling in all forms of healing.
Upcoming Events to be Announced Soon!
---
PAST EVENTS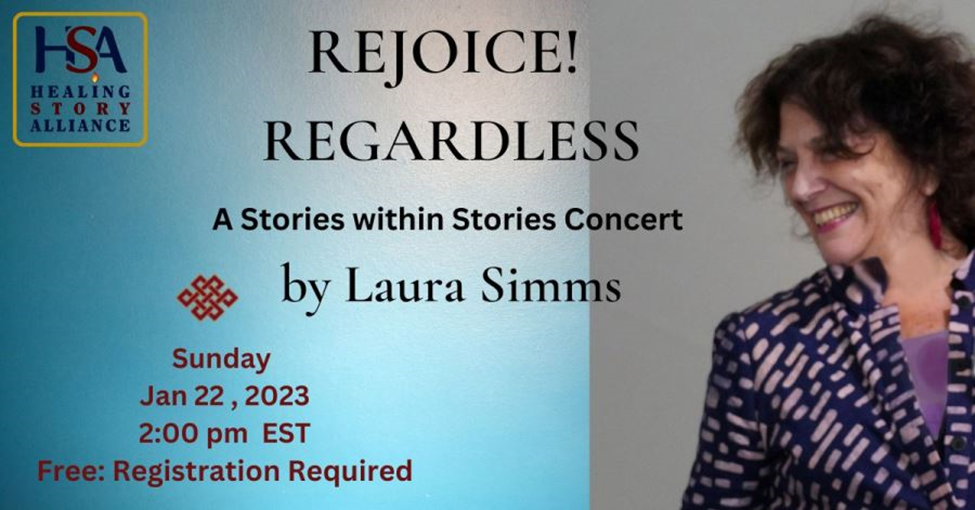 REJOICE! REGARDLESS!
By Laura Simms
Welcome one and all! Healing Story Alliance is delighted to present a free storytelling concert designed by master storyteller Laura Simms to celebrate HSA's rejuvenation in the New Year. The event will be a tapestry of personal stories and fragments of myths uncovering the heart of joy in everyday experience. These stories within stories are woven into a remarkable Kurdish Jewish fairy tale called "What a Beautiful Road."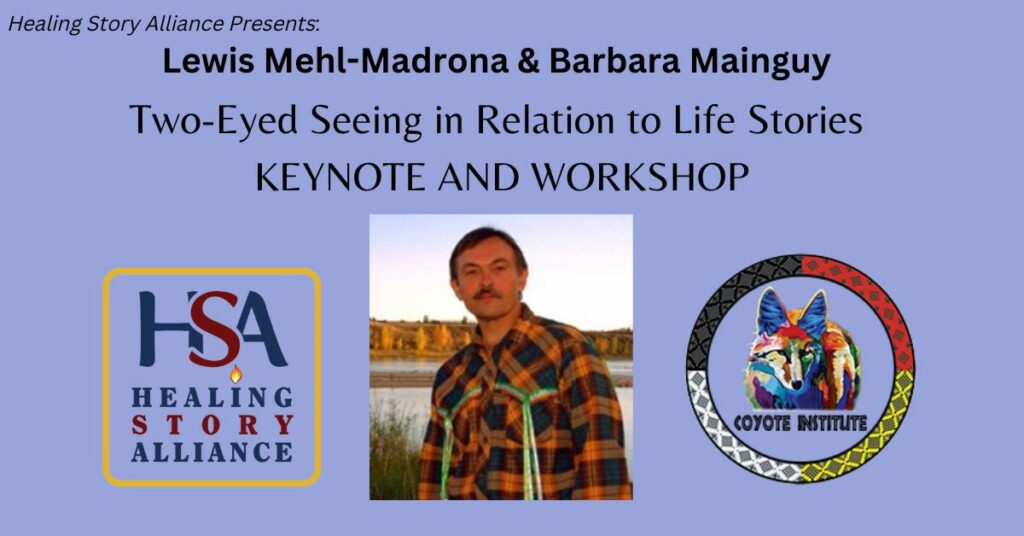 Two-Eyed Seeing in Relation to Life Stories
a keynote and Workshop with Dr Lewis Mehl-Madrona and Dr. Barbara Mainguy
December 10, 2022
1:00pm-5:00pm
$75 &
Pay as you are able option $25-$150
Lewis works with aboriginal communities to develop uniquely aboriginal styles of healing and health care, particularly drawn from the Lakota and Cherokee traditions. As both a psychiatrist and psychologist, Lewis has been studying traditional healing andhealers since his early days and has written extensively about their work and the process of healing. Lewis is the author of CoyoteMedicine, Coyote Healing, and Coyote Wisdom, a trilogy of books on what Native culture has to offer the modern world. He has also written Narrative Medicine, Healing the Mind through the Power of Story: the Promise of Narrative Psychiatry.
Lewis has developed this special keynote and workshop for the Healing Story Alliance based on his recent book written with Barbara Mainguy, Remapping Your Mind: the Neuroscience of Self-Transformation through Story.
CONCERTS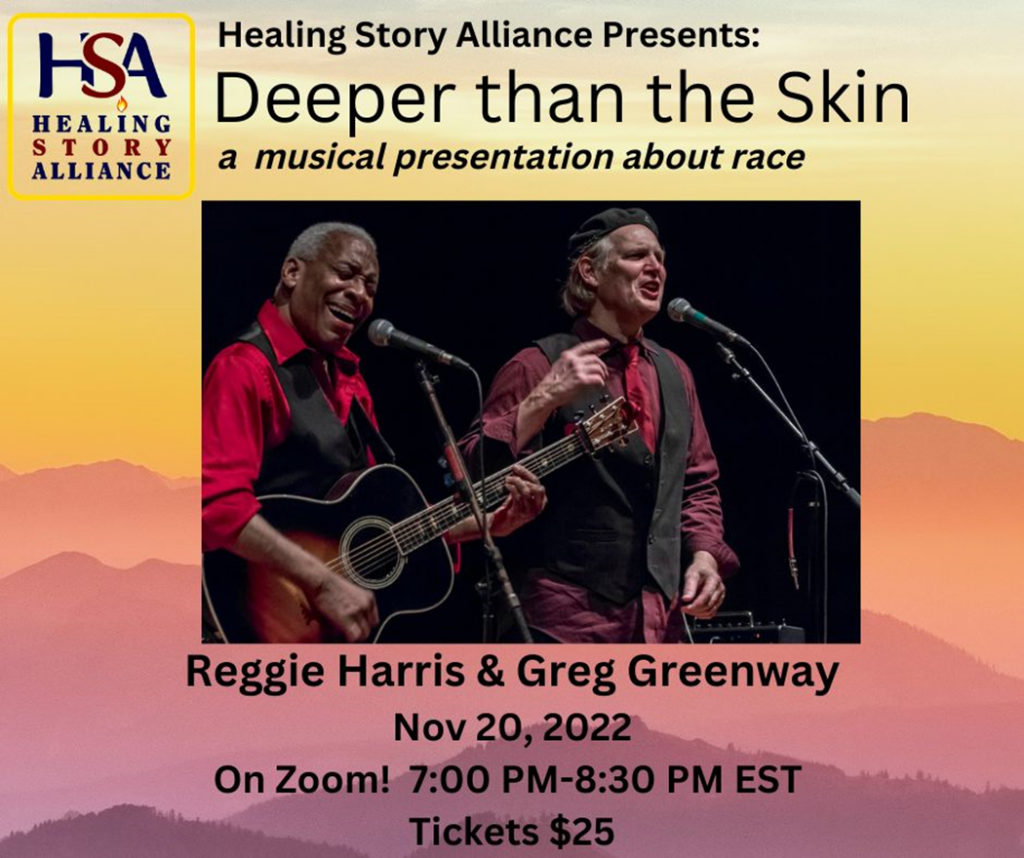 DEEPER THAN THE SKIN
Reggie Harris & Greg Greenway
Nov 20, 2022
On Zoom! 7:00 PM-8:30 PM
Tickets $25
DEEPER THAN THE SKIN is a musical presentation on race. It is an experience of singing and listening… of experiencing a connection so deep that it makes you laugh, smile, cry and reconsider what you know about our history. It's an invitation to open your heart and mind to a story of shared humanity that can resonate with your own.
Two friends… one Black, one White… one from the North… one from the South! Musicians, storytellers, students of history and world travelers . . . born 3 day apart! Two separate narratives forged into one powerful friendship aimed at finding common ground and helping others to do the
same.
Past HSA Workshop Events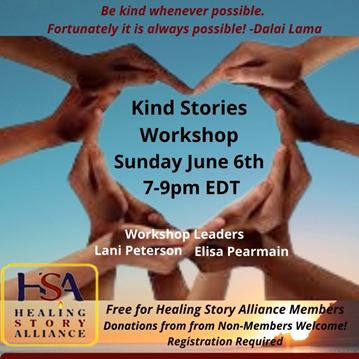 KIND STORIES WORKSHOP- June 6, 2021
After presenting several Kind Stories in Concert programs during the winter and spring of 2021, HSA offered story listeners an opportunity to work with facilitators Elisa Pearmain and Lani Peterson to explore the personal and family stories of kindness in their lives. Take-aways included several story seeds, a more developed story shared, inspiration, and sense of our shared community.