HSA offers workshops, concerts, seminars, and panel discussions that explore the applied uses of storytelling in all forms of healing.
---
UPCOMING EVENTS
---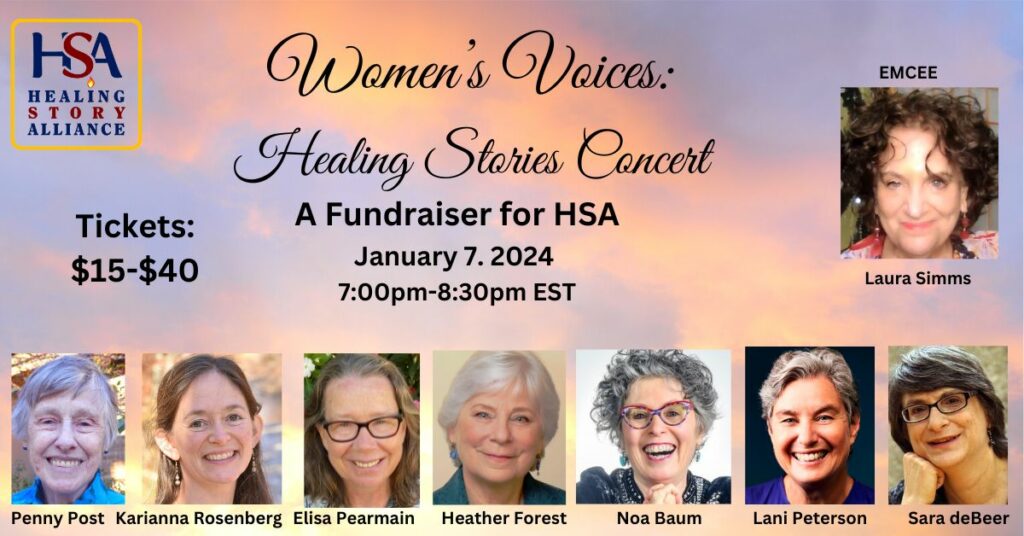 Women's Voices: Healing Stories Concert
January 7, 2024 – 7:00-8:30pm EST
HSA FUNDRAISER
The Healing Story Alliance (HSA) presents a concert of healing stories told by women members of the HSA Advisory Committee. Enjoy a varied evening of personal narratives and folktales that will delight you at one moment and inspire you the next. Please join us for this exciting fundraising event and help support our programming.
ABOUT THE STORYTELLERS
Lani Peterson, known for telling and encouraging personal stories, has a specialty in story exploration as a healing art and change agent. Her background includes over 25 years as a professional storyteller and story coach combined with a doctorate in psychology from William James College, a master's in counseling psychology from Lesley University and an undergraduate degree in literature from Smith College. She has taught Effective Organizational Communications Skills for Non-Profit Leaders in the master's program at Wheelock College as well as Healing through our Stories in the Expressive Therapies master's track at Lesley University. From CEO's to scientists, doctors, mental health providers, ministers and the homeless, Lani has worked with individuals, groups and organizations to help people find their stories, share their stories, and come together with a deeper level of connection and understanding. Her ongoing mission is to bring to light and share the stories that will open doors within and between storytellers and listeners alike.
Sara deBeer's great love is telling traditional folktales from world cultures. Since 1978, Sara has been telling these stories to audiences of all ages. A listener said, "Sara is a captivating storyteller, sensitive to her audience and their interests. Her extensive repertoire enables her to present programs on a wide variety of themes." Listeners discover the richness of each individual culture while also appreciating the universality of human experiences. An experienced classroom teacher with degrees from Yale and Bank Street, Sara offers workshops for tellers at every level of experience. She is a published poet who also teaches poetry-writing classes. In 2004, Sara was awarded the Barbara Reed Award for Distinguished and Outstanding Service to the Connecticut Storytelling Community. http://storydebeer.com/
Elisa Pearmain has been a professional storyteller for over 35 years. She began by telling healing personal and biographical stories, and leading workshops in helping others to do the same. She was a Storyteller in Residence in the Boston schools for over 10 years and brings a variety of healing story programs to public schools. She received her MEd with a concentration in storytelling and taught Storytelling in the Curriculum for Lesley Master's program. She has an M.A. in Counseling and works part time as a licensed psychotherapist with a focus on Forgiveness, Internal Family Systems and Mindfulness Based therapeutic practice with adults and teens. Elisa is the award-winning author of two collections of wise world tales including Doorways to the Soul: 52 Wisdom Tales from around the World, and a CD on Forgiveness through Story. New book coming soon: Forgiveness: Healing Resentments through Story and the ReStorying Process.
Heather Forest, PhD, is an award-winning storyteller, author, and musician. A pioneer in the American storytelling renaissance, she has appeared in theatres, schools, literature conferences, and major storytelling festivals throughout the United States and abroad since 1975. A modern-day bard, her dynamic fusion of original music, poetry, and the sung and spoken word brings multicultural folktales to life in the imagination of her listeners. She is a recipient of the Circle of Excellence Award presented by the National Storytelling Network for her performance skill and the 2021 Talking Leaves Award for her contributions to storytelling literature. An author of seven folktale recordings and ten folktale books, her published work has earned an American Library Association Notable Record Award, two Parent's Choice Gold Awards, and three Storytelling World Honor Awards. Her musical monologue EARTHSONG won Best Composer in the 2021 United Solo Festival off Broadway. She views storytelling as both a fine art and a powerful tool for positive social change.
Noa Baum is described by The Washington Post as someone who "Spreads cultural truths that eclipse geopolitical boundaries…". An internationally acclaimed storyteller, author, and coach, she offers a unique combination of performance art and practical workshops that focus on the power of narrative to heal across the divides of identity and promote compassion and peace. Born and raised in Jerusalem, Noa trained in theatre at Tel-Aviv University, studied acting with Uta Hagen and received an MA in Educational Theater from NYU. Since 1982, she's been presenting internationally. She is the author of two books: A Land Twice Promised – an Israeli Woman's Quest for Peace – winner of the Anne Izard Storytellers' Choice Award, the LDS Publishing Professionals Association Award, and a Storytelling World Award – and picture book How the Birds Became Friends, on the power of kindness to bring peace. Her audio recordings won Parents' Choice and Storytelling World awards.
Karianna Rosenberg, through her life journey, has gained a deep understanding of the power of stories and nature for healing, planting seeds of awareness, and growing connection. Rooted deep in the earth, her work invites us to connect more harmoniously with each other, ourselves, all of nature, and with our own spirituality. Karianna offers programs for adults through Earth Song Transformations, igniting healing, curiosity, and joy. In addition to performing stories since the 1990s', Karianna has also been part of the global deep nature connection movement. She co-founded Two Coyotes Wilderness School in 2008 where she mentors both children and adults. She is also a nature mentor and facilitator of nature connection programs and forums for adults both regionally and online internationally. Karianna is a dancer, healer, and basket weaver. She holds a Masters of Arts in Teaching English and Spanish as Second Languages. [email protected]
Penny Post has been telling stories and producing storytelling events since 1985. To address her initial fear of audiences, she joined Toastmasters. For 30 years she told stories and presented workshops in the corporate world throughout southern California, as well as coaching clients in speaking and writing. After moving east in 2007 she joined the LANES (now NEST) board for three years, and in 2014 received an MFA in creative writing, non-fiction, from Lesley University. She is a member of the HSA Advisory and Programming Committees and continues to perform and teach storytelling in ESL and other venues on Zoom.
EMCEE
Laura Simms is an award-winning, internationally acclaimed storyteller, writer, and humanitarian advocating engaged storytelling as compassionate action for personal and community transformation. She brings over six decades of experience performing and teaching worldwide. She performs mythic stories woven with personal narrative and has worked in the capacity of story advisor, mindfulness instructor, and mediator. She offers in-depth coaching classes and powerful performances of stories that address the most pressing issues of our times with dignity, and joy. She is artistic director of the H C Andersen Storytelling Center and is the author of six books.
PAST EVENTS
---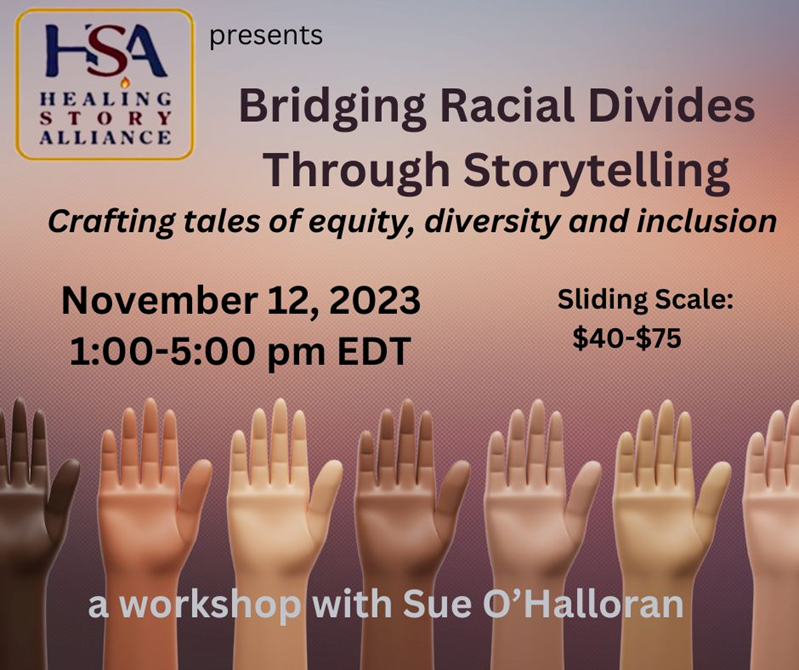 BRIDGING RACIAL DIVIDES THROUGH STORYTELLING
By Sue O'Halloran
Sunday, November 12th / 1 – 5 pm EST
You have something to say in a story, but how do you say it without sounding too pushy or opinionated? In this hands-on workshop, Sue O'Halloran will demonstrate and instruct how she approaches themes of race equity, diversity and inclusion into stories that respect, enlighten, and emotionally move your audience members to take action. You'll leave with a better understanding of your motives for telling socially relevant stories and be given practical ways to overcome the fears all of us have about taking stands. Join us whether you are a veteran activist or you are still discovering what causes call to you.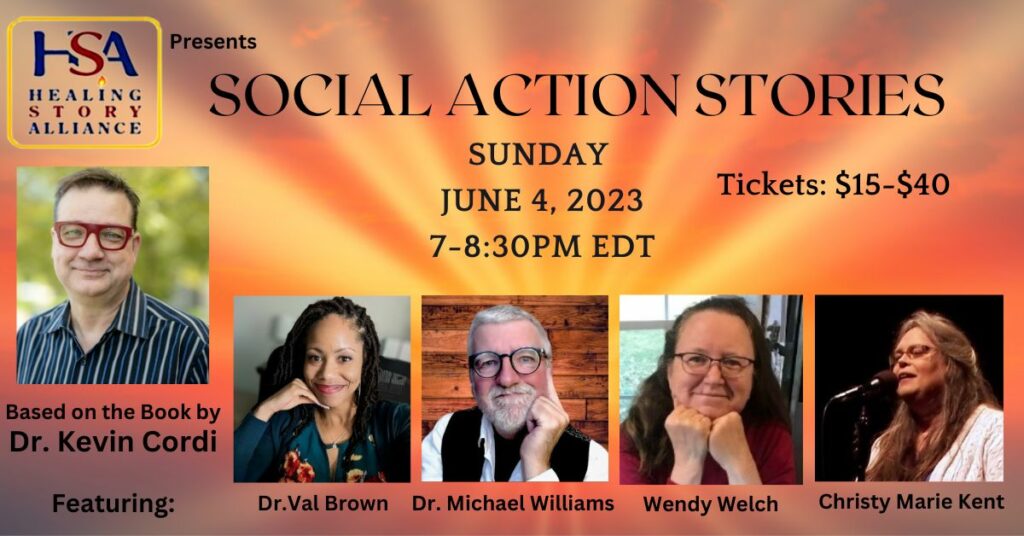 SOCIAL ACTION STORIES
By Dr. Kevin Cordi
Sunday, June 4th / 7 – 8:30 pm EDT
Healing Story Alliance is delighted to present a virtual concert, Social Action Stories curated by Dr. Kevin Cordi. Listening to and telling social action stories renders people and their stories visible. This program, which grew out of the recently released book, Social Action Stories, (Ed. Cordi, Milks, and Van Tessell, 2023) captures the voices of five storytellers, activists, educational reformers, therapists, and regular folks who advocate for change through deep listening and deliberate action. These stories are intended to move your work as a storyteller towards an equitable world.
Social Action Stories (Ed. Cordi, Milks, and Van Tessell) Marion, MI: Parkhurst Brothers Publisher, 2023) PO Box 356 Marion, MI 49665 Phone 800-621-2736. http://www.parkhurstbrothers.com/ $19.95 paperback (See website for other options) Free shipping for attenders of the program. (Code will be given out during program). You must call to order to receive the discount.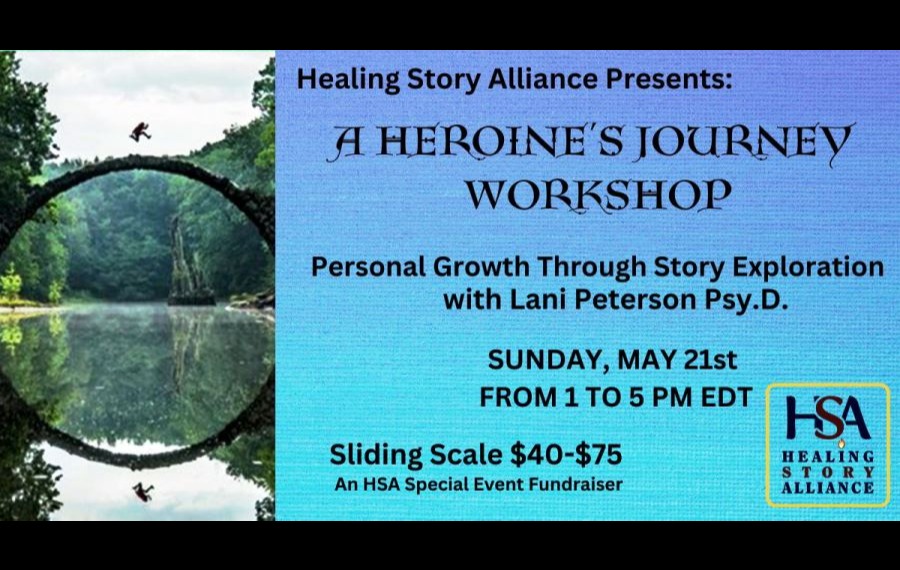 A HEROINE'S JOURNEY WORKSHOP
With Lani Peterson Psy.D.
Sunday, May 21st / 1 – 5 pm EDT
Join us for an HSA special event fundraiser featuring Lani Peterson Psy.D. who will guide us on a remarkable Heroine's Journey. Through telling our stories and listening to the stories of others who walk a similar path, we will explore within ourselves and between each other, the underlying knowledge, skills, and support we need to help us live our lives more fully.
Throughout our life's journey we face challenges that reveal to us who we are in our depths, who walks with us, what we know and what we still need to learn. Whether we are looking at the arc of a day or the journey of a lifetime, we find similar patterns of being pulled into experiences that we sometimes embrace, and many times just endure. As women, what aspects of Campbell's Hero's Journey are unique to us, and how might we benefit from sharing our stories of challenge and triumph with our sisters?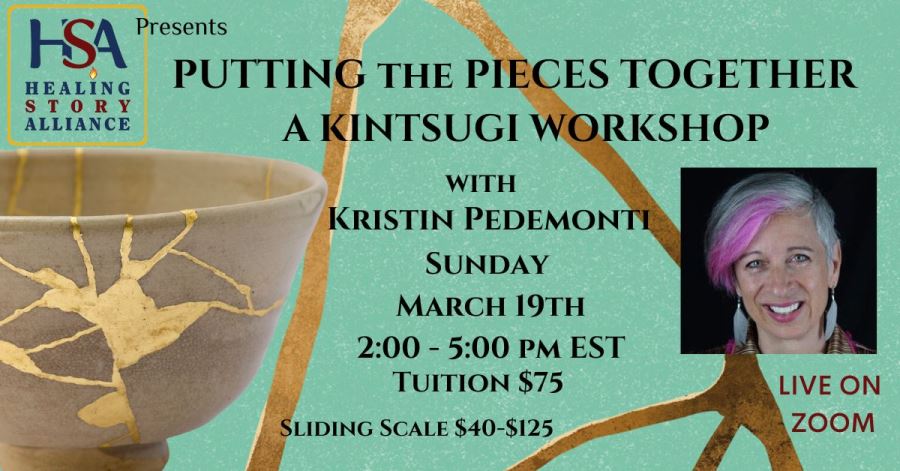 A KINTSUGI WORKSHOP
PUTTING THE PIECES TOGETHER:
By Kristin Pedemonti
Sunday, March 19, 2023
In this special event fundraiser for Healing Story Alliance join us to explore the art of Kintsugi with Kristin Pedemonti! Through guided reflections and hands-on learning, attendees will experience the physical art and profound metaphors of Kintsugi in a step-by-step process. Engaging in this uplifting endeavor, imagine how you will put the pieces back together! No experience necessary.
WHAT IS KINTSUGI? Kintsugi (golden joinery) is an ancient Japanese art of mending broken pottery with lacquer and precious metals highlighting the cracks rather than hiding them. Kintsugi honors the journey of the vessel and believes the mended piece is stronger and more valuable. Kintsugi is a powerful metaphor and art form used to explore layers of meaning- including challenges, changes, and new chapters in our lived experiences. This workshop offers an invitation to look at the pieces in new ways as we put them back together.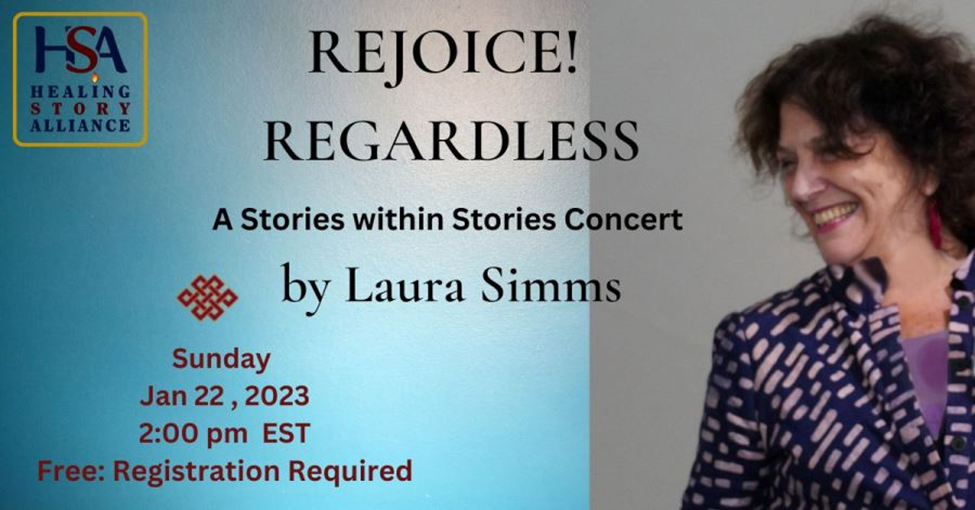 REJOICE! REGARDLESS!
BY LAURA SIMMS
Sunday, January 22, 2023 at 2:00 pm EST
Welcome one and all! Healing Story Alliance is delighted to present a free storytelling concert designed by master storyteller Laura Simms to celebrate HSA's rejuvenation in the New Year. The event will be a tapestry of personal stories and fragments of myths uncovering the heart of joy in everyday experience. These stories within stories are woven into a remarkable Kurdish Jewish fairy tale called "What a Beautiful Road."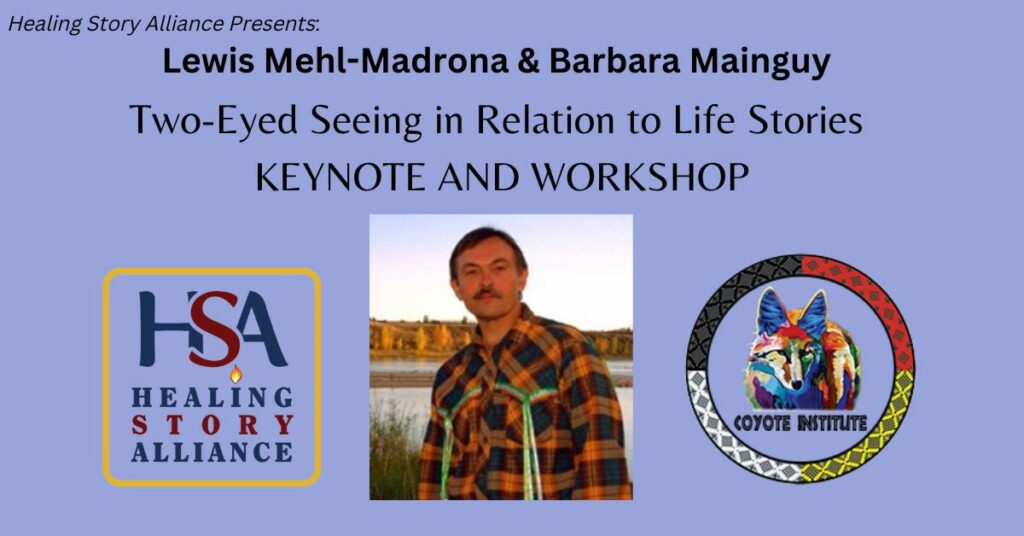 Two-Eyed Seeing in Relation to Life Stories
a keynote and Workshop with Dr Lewis Mehl-Madrona and Dr. Barbara Mainguy
December 10, 2022
1:00pm-5:00pm
$75 &
Pay as you are able option $25-$150
Lewis works with aboriginal communities to develop uniquely aboriginal styles of healing and health care, particularly drawn from the Lakota and Cherokee traditions. As both a psychiatrist and psychologist, Lewis has been studying traditional healing andhealers since his early days and has written extensively about their work and the process of healing. Lewis is the author of CoyoteMedicine, Coyote Healing, and Coyote Wisdom, a trilogy of books on what Native culture has to offer the modern world. He has also written Narrative Medicine, Healing the Mind through the Power of Story: the Promise of Narrative Psychiatry.
Lewis has developed this special keynote and workshop for the Healing Story Alliance based on his recent book written with Barbara Mainguy, Remapping Your Mind: the Neuroscience of Self-Transformation through Story.
CONCERTS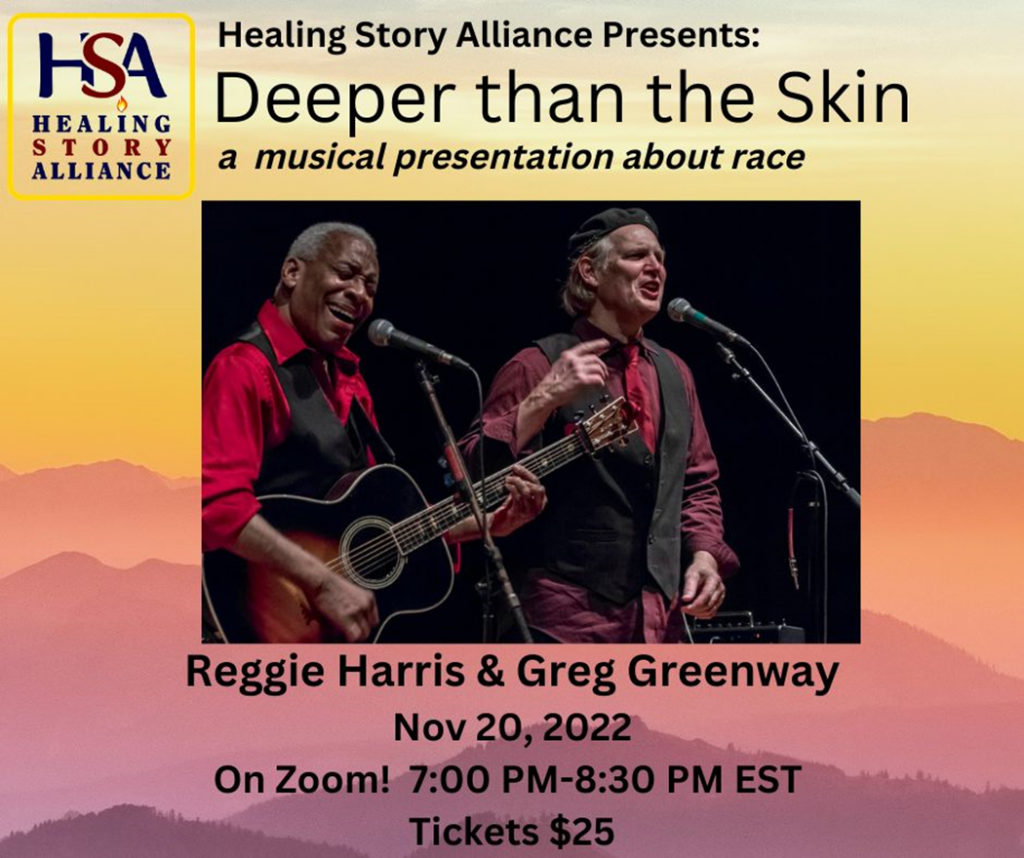 DEEPER THAN THE SKIN
Reggie Harris & Greg Greenway
Nov 20, 2022
On Zoom! 7:00 PM-8:30 PM
Tickets $25
DEEPER THAN THE SKIN is a musical presentation on race. It is an experience of singing and listening… of experiencing a connection so deep that it makes you laugh, smile, cry and reconsider what you know about our history. It's an invitation to open your heart and mind to a story of shared humanity that can resonate with your own.
Two friends… one Black, one White… one from the North… one from the South! Musicians, storytellers, students of history and world travelers . . . born 3 day apart! Two separate narratives forged into one powerful friendship aimed at finding common ground and helping others to do the
same.
Past HSA Workshop Events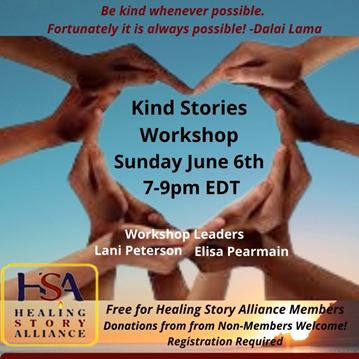 KIND STORIES WORKSHOP- June 6, 2021
After presenting several Kind Stories in Concert programs during the winter and spring of 2021, HSA offered story listeners an opportunity to work with facilitators Elisa Pearmain and Lani Peterson to explore the personal and family stories of kindness in their lives. Take-aways included several story seeds, a more developed story shared, inspiration, and sense of our shared community.