HSA offers workshops, concerts, seminars, and panel discussions that explore the applied uses of storytelling in all forms of healing.
UPCOMING EVENTS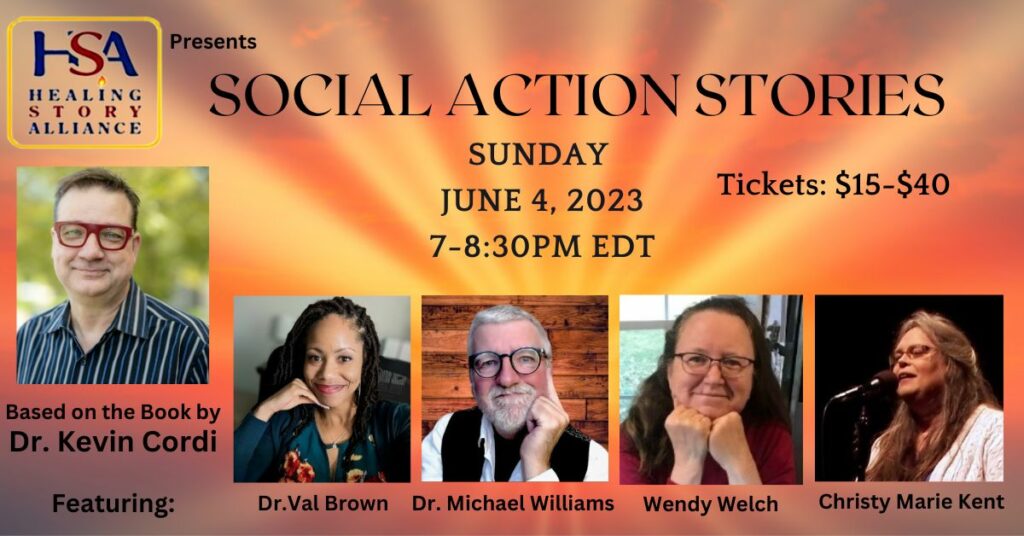 Social Action Stories
Sunday, June 4th / 7 – 8:30 pm EDT
Tickets: $15 – $40
Healing Story Alliance is delighted to present a virtual concert, Social Action Stories curated by Dr. Kevin Cordi. Listening to and telling social action stories renders people and their stories visible. This program, which grew out of the recently released book, Social Action Stories, (Ed. Cordi, Milks, and Van Tessell, 2023) captures the voices of five storytellers, activists, educational reformers, therapists, and regular folks who advocate for change through deep listening and deliberate action. These stories are intended to move your work as a storyteller towards an equitable world.
About the Storytellers
Dr. Kevin D. Cordi believes in the power of story to promote action. He holds a Doctorate in Storytelling and Education from Ohio State University. He serves as one of the editors of Social Action Stories (Parkhurst Brothers 2023) and is an Assistant Professor of Education and Literacy at Ohio University Lancaster where he teaches literacy and storytelling. He is the author of Playing with Stories and other books on using story in many fields. He is a cis-gender Appalachian educator who knows that stories are how we make meaning. He co-chairs two committees on Diversity, Equity and Inclusion for OU and is a past active member of the Advisory Council member for Learning for Justice. He has presented and performed in over 45 states, England, Japan, Canada, Scotland, Japan, and Qatar. He believes deep listening invites community and comprehension. He believes in creating spaces for this deep listening to yield better understanding. You can find out more about him and his work at https://www.kevincordi.com/.
Social Action Stories (Ed. Cordi, Milks, and Van Tessell) Marion, MI: Parkhurst Brothers Publisher, 2023) PO Box 356 Marion, MI 49665 Phone 800-621-2736. http://www.parkhurstbrothers.com/ $19.95 paperback (See website for other options) Free shipping for attenders of the program. (Code will be given out during program). You must call to order to receive the discount.
Val Brown, EdD is a director for a national nonprofit focused on catalyzing transformational change in education. Prior to that, Val served as the academic director for the Center for Antiracist Education, and the professional development manager for Learning for Justice. Her additional experience includes diversity, equity and inclusion consulting services for school districts, colleges and universities, curriculum providers, and publishers. Throughout her 20-year career, Val has also served as a middle school teacher, instructional coach, and district administrator. In 2016 she founded #ClearTheAir, an online community of educators engaging in conversations about race, racism and school. Her dissertation examined how professional learning can support educator activists as they work for educational, racial, and social justice in their communities. https://cleartheaireducation
Michael Williams, Ph.D. is a storyteller, story coach, author, and an accredited End-of-Life Planning Facilitator and Trainer. Born and raised in Canada, Dr. Williams has worked as a group home parent, Child Care Worker, musician, University tutor and lecturer and secondary school English teacher. In 1988, he moved to Scotland to undertake a Ph.D. in English Literature at the University of Edinburgh. He taught at the University for 7 years before taking a post at the Edinburgh Rudolf Steiner (Waldorf) School. Over the next 10 years, he apprenticed as a storyteller before leaving full-time teaching in 2005 to become an itinerant storyteller. Combining his previous careers as a counsellor, teacher, and entertainer, Dr. Williams grounded his storytelling and coaching practice in therapeutic work. Following a tour in the Middle East with the "Healing Words" program, Dr. Williams returned to Scotland and established his story coaching practice. He has worked with numerous individuals as well as a host of community and corporate organizations. In 2012, he co-facilitated the first Aberdeen Leadership Forum, working with men and women in leadership within the oil and gas industry. This led to pioneering digital storytelling work with organizations supporting people with chronic illnesses such as M.E/CFS, Parkinson's, Arthritis, Cancer, and mental health challenges. In 2017, Dr. Williams returned to Canada where he continues his work, focusing on elderly men and women experiencing loneliness and social isolation. He is also the Senior End-of-Life Planning Facilitator and Trainer with "Before I Go Solutions," an organization established to provide training, support, and resources around end-of-life planning and care. Dr. Williams currently lives in Hamilton, Ontario, and loves to spend time visiting his grandchildren, walking in the woods, and playing the ukulele. He's currently writing a memoir and a book on his experience as a story coach. Email: [email protected]
Wendy Welch is executive director of the Graduate Medical Education Consortium of Southwest Virginia. She is the author of The Little Bookstore of Big Stone Gap and Fall or Fly (detailing how the substance abuse crisis crashed rural foster care systems.) Her first work of fiction is Bad Boy in the Bookstore. She is also the editor of two anthologies: "Public Health in Appalachia" and "From the Front Lines of the Appalachian Addiction Crisis: Healthcare Providers Discuss Opioids, Meth and Recovery." A lifelong advocate for coalfields Appalachia, Wendy divides her time between enjoying its natural beauty and cultural offering and working to make it a more just and vibrant place.
Christy Marie Kent was born in Mississippi and raised all over the south, longest in Kentucky and Tennessee. Her parents moved to a different state every couple of years, but wherever they went … she found stories. She has worked for over twenty years in insurance product management. She has also taught college mathematics and built probability models for an electronic game company. Those day jobs moved her further and further north. Now she finds herself living in the frozen tundra of Minnesota with her husband, two sons, and a cat who begs to return to a warmer climate. Christy loves Minneapolis, so that cat will have to buck up and grow a thicker coat (don'tcha know). She is the author of Angels, Monks, and Hormones; Moonshine, Madness, and Murder; and Transgression. In addition to her novels, she is a frequent storyteller around the Twin Cities, a multiple winner of the Twin Cities Moth, and the 2016 SlamMN! Grand Slam champion. Her play "Pope Joan: The First Transgender Pope" was a sellout hit at the 2017 Minnesota Fringe Festival.
---
PAST EVENTS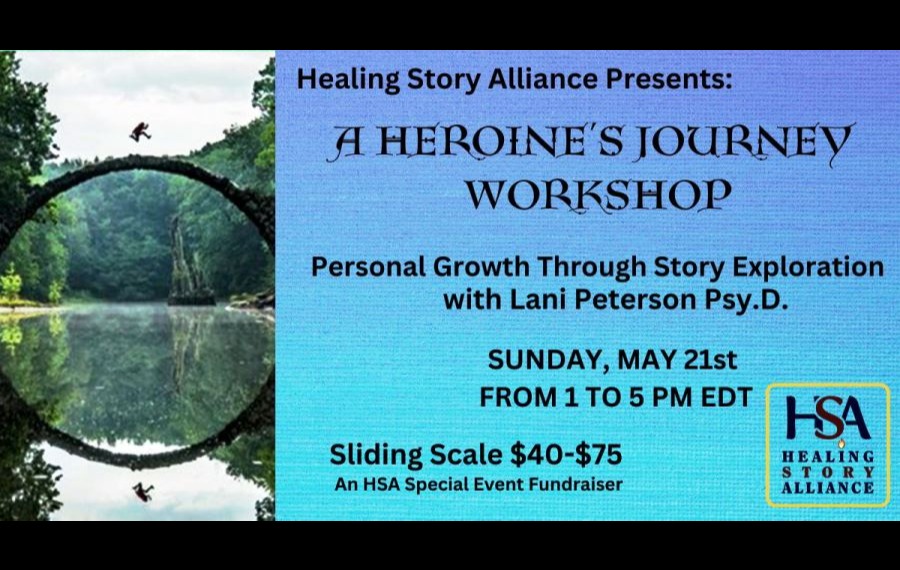 A HEROINE'S JOURNEY WORKSHOP
With Lani Peterson Psy.D.
Sunday, May 21st / 1 – 5 pm EDT
Join us for an HSA special event fundraiser featuring Lani Peterson Psy.D. who will guide us on a remarkable Heroine's Journey. Through telling our stories and listening to the stories of others who walk a similar path, we will explore within ourselves and between each other, the underlying knowledge, skills, and support we need to help us live our lives more fully.
Throughout our life's journey we face challenges that reveal to us who we are in our depths, who walks with us, what we know and what we still need to learn. Whether we are looking at the arc of a day or the journey of a lifetime, we find similar patterns of being pulled into experiences that we sometimes embrace, and many times just endure. As women, what aspects of Campbell's Hero's Journey are unique to us, and how might we benefit from sharing our stories of challenge and triumph with our sisters?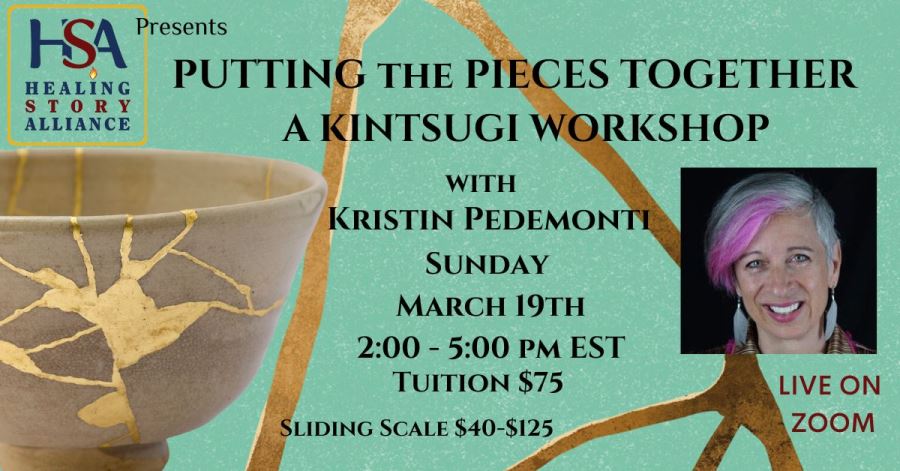 A KINTSUGI WORKSHOP
PUTTING THE PIECES TOGETHER:
By Kristin Pedemonti
Sunday, March 19, 2023
In this special event fundraiser for Healing Story Alliance join us to explore the art of Kintsugi with Kristin Pedemonti! Through guided reflections and hands-on learning, attendees will experience the physical art and profound metaphors of Kintsugi in a step-by-step process. Engaging in this uplifting endeavor, imagine how you will put the pieces back together! No experience necessary.
WHAT IS KINTSUGI? Kintsugi (golden joinery) is an ancient Japanese art of mending broken pottery with lacquer and precious metals highlighting the cracks rather than hiding them. Kintsugi honors the journey of the vessel and believes the mended piece is stronger and more valuable. Kintsugi is a powerful metaphor and art form used to explore layers of meaning- including challenges, changes, and new chapters in our lived experiences. This workshop offers an invitation to look at the pieces in new ways as we put them back together.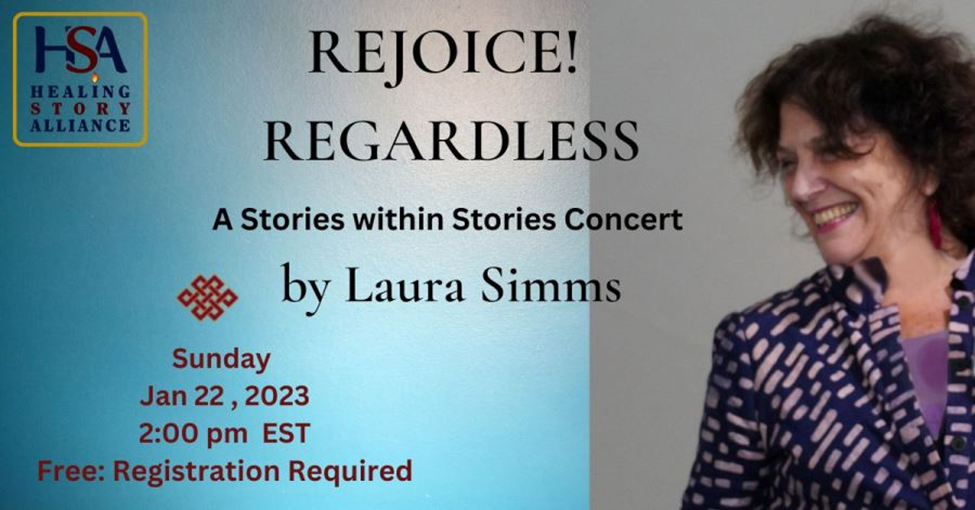 REJOICE! REGARDLESS!
BY LAURA SIMMS
Sunday, January 22, 2023 at 2:00 pm EST
Welcome one and all! Healing Story Alliance is delighted to present a free storytelling concert designed by master storyteller Laura Simms to celebrate HSA's rejuvenation in the New Year. The event will be a tapestry of personal stories and fragments of myths uncovering the heart of joy in everyday experience. These stories within stories are woven into a remarkable Kurdish Jewish fairy tale called "What a Beautiful Road."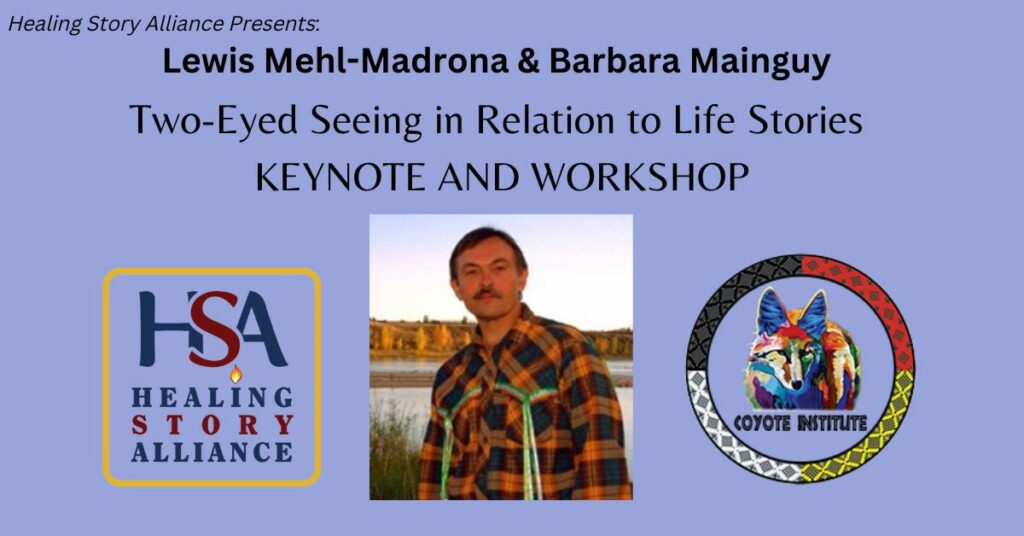 Two-Eyed Seeing in Relation to Life Stories
a keynote and Workshop with Dr Lewis Mehl-Madrona and Dr. Barbara Mainguy
December 10, 2022
1:00pm-5:00pm
$75 &
Pay as you are able option $25-$150
Lewis works with aboriginal communities to develop uniquely aboriginal styles of healing and health care, particularly drawn from the Lakota and Cherokee traditions. As both a psychiatrist and psychologist, Lewis has been studying traditional healing andhealers since his early days and has written extensively about their work and the process of healing. Lewis is the author of CoyoteMedicine, Coyote Healing, and Coyote Wisdom, a trilogy of books on what Native culture has to offer the modern world. He has also written Narrative Medicine, Healing the Mind through the Power of Story: the Promise of Narrative Psychiatry.
Lewis has developed this special keynote and workshop for the Healing Story Alliance based on his recent book written with Barbara Mainguy, Remapping Your Mind: the Neuroscience of Self-Transformation through Story.
CONCERTS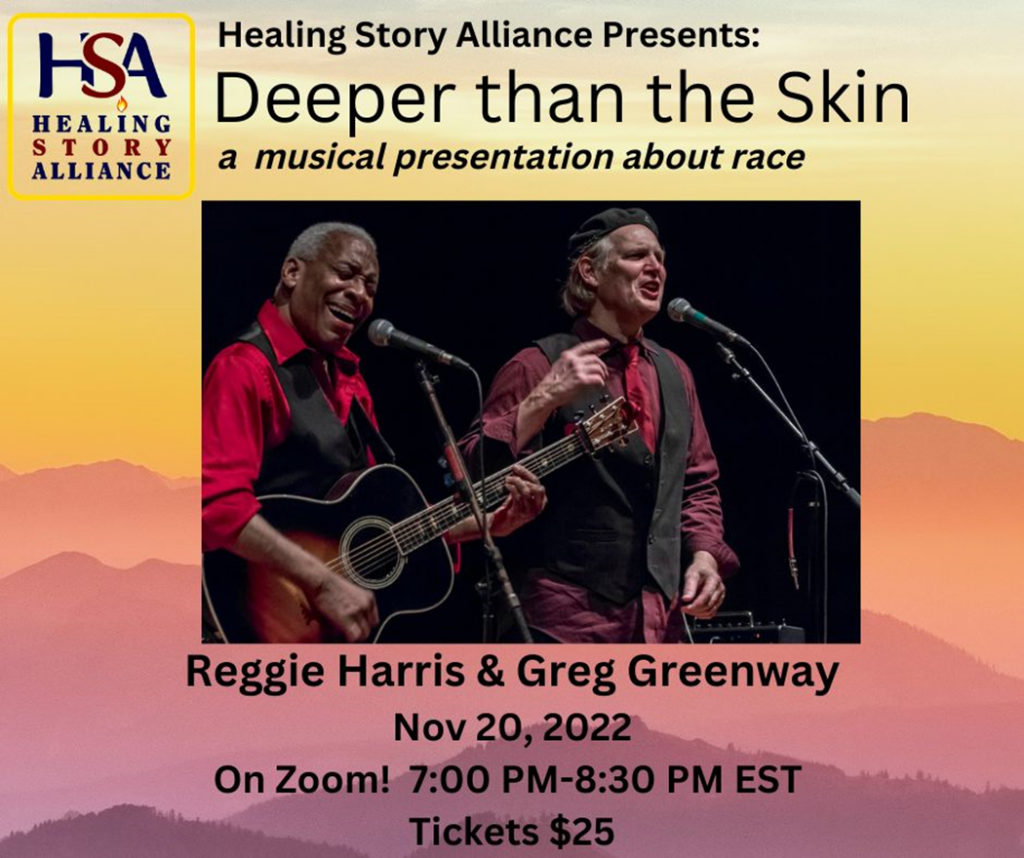 DEEPER THAN THE SKIN
Reggie Harris & Greg Greenway
Nov 20, 2022
On Zoom! 7:00 PM-8:30 PM
Tickets $25
DEEPER THAN THE SKIN is a musical presentation on race. It is an experience of singing and listening… of experiencing a connection so deep that it makes you laugh, smile, cry and reconsider what you know about our history. It's an invitation to open your heart and mind to a story of shared humanity that can resonate with your own.
Two friends… one Black, one White… one from the North… one from the South! Musicians, storytellers, students of history and world travelers . . . born 3 day apart! Two separate narratives forged into one powerful friendship aimed at finding common ground and helping others to do the
same.
Past HSA Workshop Events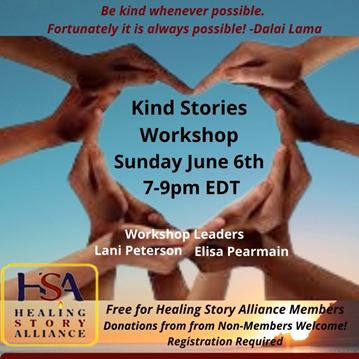 KIND STORIES WORKSHOP- June 6, 2021
After presenting several Kind Stories in Concert programs during the winter and spring of 2021, HSA offered story listeners an opportunity to work with facilitators Elisa Pearmain and Lani Peterson to explore the personal and family stories of kindness in their lives. Take-aways included several story seeds, a more developed story shared, inspiration, and sense of our shared community.