Welcome to Healing Story Alliance

Founded over 25 years ago, Healing Story Alliance is an alliance of artists and practitioners who view storytelling as a healing art. HSA currently offers dynamic programming and online resources that promote healing of the self, society, and the earth. We are no longer a member-based organization requiring dues. We welcome anyone into our circle who is interested in the healing power of story to bring about positive change. Join our new mailing list to keep abreast of our offerings!

---
UPCOMING HSA EVENTS!
Special Event Fundraiser for HSA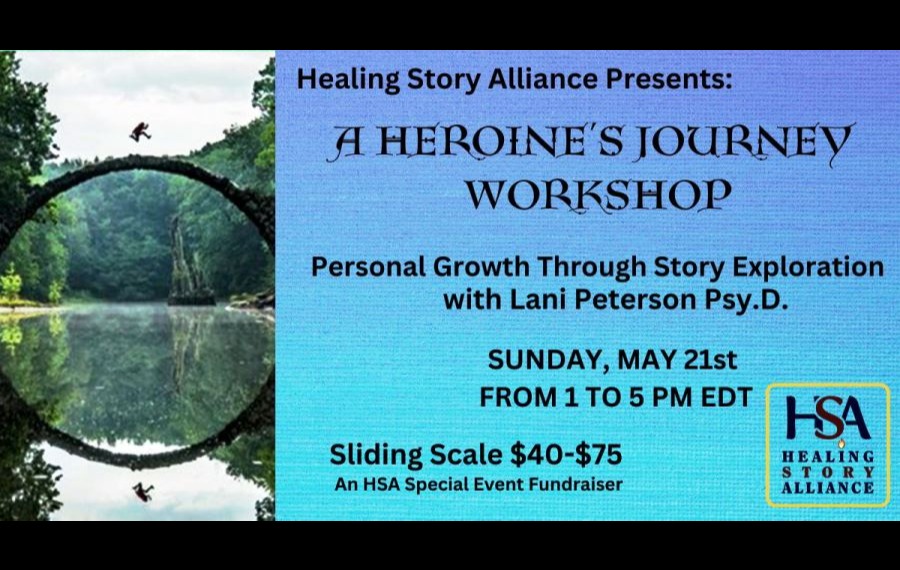 A Heroine's Journey Workshop with Lani Peterson Psy.D.
Sunday, May 21, 2023
1:00pm-5:00pm Eastern Time
Join us for an HSA special event fundraiser featuring Lani Peterson Psy.D. who will guide us on a remarkable Heroine's Journey. Through telling our stories and listening to the stories of others who walk a similar path, we will explore within ourselves and between each other, the underlying knowledge, skills, and support we need to help us live our lives more fully.
Throughout our life's journey we face challenges that reveal to us who we are in our depths, who walks with us, what we know and what we still need to learn. Whether we are looking at the arc of a day or the journey of a lifetime, we find similar patterns of being pulled into experiences that we sometimes embrace, and many times just endure. As women, what aspects of Campbell's Hero's Journey are unique to us, and how might we benefit from sharing our stories of challenge and triumph with our sisters?
More about the Workshop
Finding the path can best be done through exploring the cornerstone stories of:
Who I was before: Where did my story begin? How have early life context and experiences influenced who I have become?
Who I am now: What have been the obstacles and challenges I have faced and what have I learned through meeting them? How have I changed because of it?
Who I want to be: Where do I want my story to go from here? What do I want to continue to practice, learn and know as I heal and continue to grow?
Sharing what I know: What do I want others to know that might help ease their own journey?
About the Presenter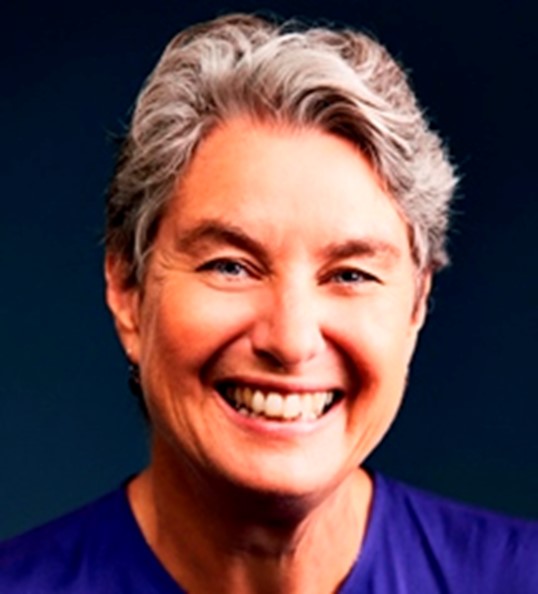 Lani Peterson's background includes over 25 years as a professional storyteller and coach combined with a doctorate in psychology from William James College, a master's in counseling psychology from Lesley University and an undergraduate degree in literature from Smith College. She has taught Effective Organizational Communications Skills for Non-Profit Leaders in the master's program at Wheelock College and currently teaches Healing through our Stories in the Expressive Therapies master's track at Lesley University.
From CEO's to scientists, doctors, mental health providers, ministers and the homeless, she has worked with individuals, groups and organizations to help people find their stories, share their stories, and come together with a deeper level of connection and understanding.
---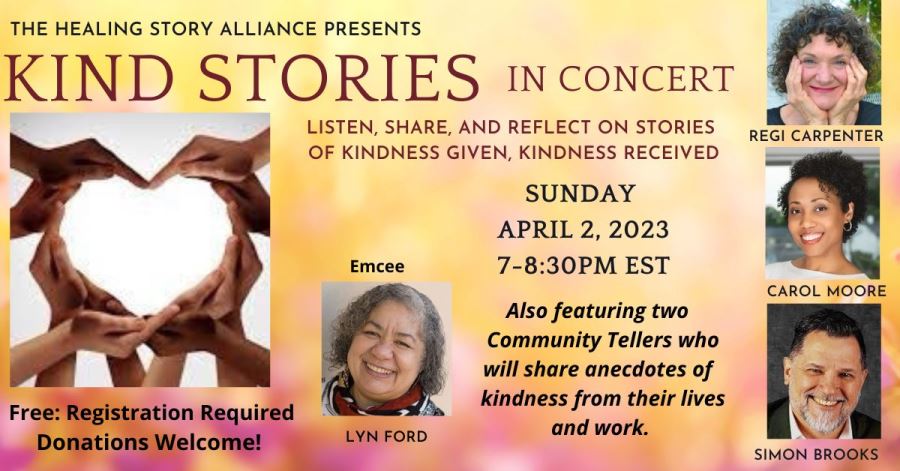 KIND STORIES IN CONCERT with Emcee Lyn Ford
Sunday, April 2, 2023 at 7:00pm-8:30pm EDT
(Open Mic Story Share and Reflection: last half hour)
Join the Healing Story Alliance for a special gathering to share and explore stories of kindness in its many faces and forms. Through folk tales and personal stories, we will dive deeply into multiple experiences of kindness. What is it? How does it impact us and our relationships to ourselves, to each other, to the world? Come and listen to "kind stories" shared by both professional tellers and community members and see what memories of kindness emerge for you.
Format: The story session opens with a concert of seasoned tellers and community tellers sharing stories with themes of kindness. During the second half of the gathering, audience members are invited to share a story, moment, or reflection about kindness that emerged for them as listeners.
Purpose: We all need a little more kindness in our lives. Perhaps a story can take us there.
ABOUT THE STORYTELLERS
Carol Moore is a dedicated coach, a professional storyteller, and public speaker who lives to educate and entertain. With a style that is comedic, conversational, and authentic, she has performed with organizations such as the National Storytelling Festival, the Moth, Story District, Better Said Than Done, Tales and Ales, Six Feet Apart Productions, Speak Up Storytelling, the TELL: Pittsburgh Storytelling Series and more. She also posts nuggets of content on the social medias. For information on her upcoming events, helpful public speaking tips, or just a good old-fashioned giggle, follow her on your favorite social media platform.
Simon Brooks is a British storyteller, humorist and author who, since 1991, has been telling to audiences from all over the world. Simon became a full-time, professional storyteller in 2003, released his first CD in 2006, and his first collection of folk and fairy tales in 2018. Simon has won awards and honors for his storytelling albums from Storytelling World and Parent's Choice. Simon has performed at the National Storytelling Festival in Tennessee and travels to major storytelling venues throughout the USA and abroad. Simon is a Children's Literacy Foundation presenter, a member of the National Storytelling Network, North East Story Telling, and the New Hampshire Storytelling Alliance.
Regi Carpenter has been utilizing the power of stories to motivate, inspire, energize and focus individuals in corporate, academic and non-profit settings for over twenty years. Regi is the recipient of many awards, including Storytelling World, Parent's Choice, and Parents' Guide to Children's Media Award. Her stories have been featured on Sirius Radio, Apple Seed Radio, The Moth, and NPR. Her story Snap! is a winner of the Boston StorySlam. Snap! is the true tale of her severe mental illness as a teenager and her journey back to reality. Regi is also the founder of Stories with Spirit, a creative initiative dedicated to bringing songs of joy and stories of hope to grieving children and the people who love and care for them in homes, hospices, and hospitals.
EMCEE
Lyn Ford is a fourth-generation, nationally recognized, Affrilachian storyteller, a teaching artist and workshop facilitator with the Ohio Alliance for Arts Education, a Thurber House mentor, a writer published in storytelling magazines and newsletters, as well as teachers' enrichment books, story anthologies, and editorial collaborations. She is also a recording artist with award-winning CDs, a Laughter Yoga Teacher and breath mechanic. Lyn is a sought after storytelling and creative-writing workshop leader and interactive keynote presenter. She is also a happy partner-in-life, mama, grandmama, great-grandmama, and good cook! For more about Laugh Yoga visit her page, Laughter, Breath, Joy!
COMMUNITY TELLERS
Also featured will be Community Tellers who will share anecdotes of kindness from their lives and work.
(Aaron) Emmanuel was born in California but grew up in Maryland. Growing up in church where his father was a pastor, doing spiritual work has always been a part of his life. We all know how polarized our society is; it's more important than ever for people to invest in matter of the human heart. His organization Trust Moving Forward (https://www.facebook.com/TrustMovingForward) is meant to do just that through social demonstrations, events, and conversations. Aaron Emmanuel is a professional musician, songwriter, poet, and filmmaker. He's currently working on his directorial debut production entitled "Donuts and Stardust".
Jenny deBeer Charno works as a medical massage therapist in Glen Cove NY and is an adjunct professor at Stony Brook University. She has led seminars for Landmark Worldwide for 30 years, and that's how she acquired her Zoom skills. Jenny has one adult child who lives in Brooklyn and is a literacy specialist. Jenny lives in Bayville, a village on the north shore of Long Island. (Jenny is also Sara deBeer's sister.)
For more information, contact: Lani Peterson: [email protected] or Heather Forest [email protected]
ONGOING BI-MONTHLY EVENT!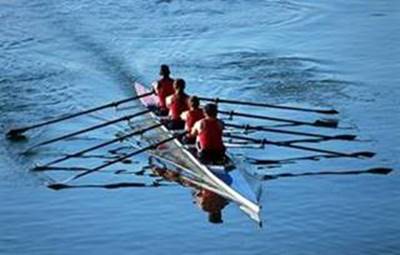 Keeping Our Oars In The Water:
Gathering To Bear Witness To Experiences
And Stories Of Vulnerability And Resilience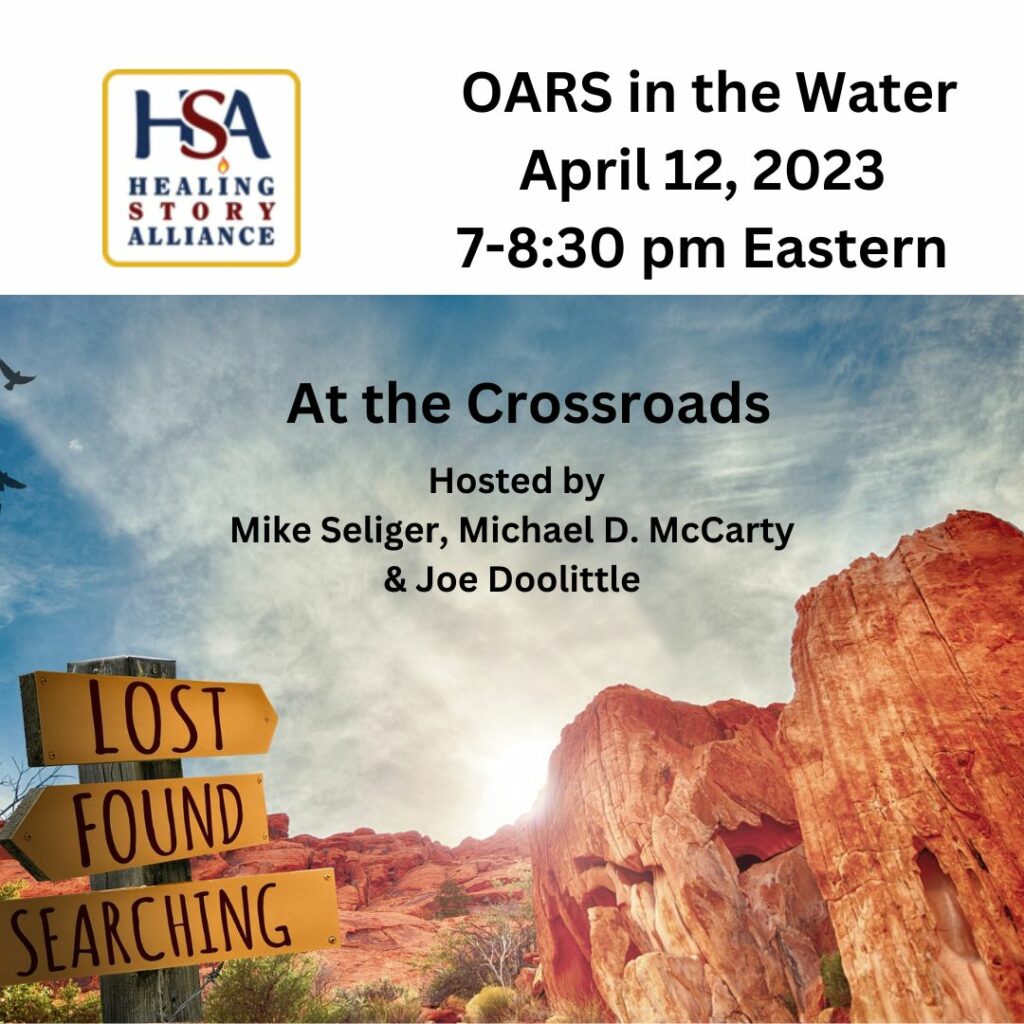 OARS in the Water
Wednesday, April 12, 2023
7:00 pm-8:30 pm EDT
Co-Hosted by Mike Seliger, Michael D. McCarty and Joe Doolittle
Theme: At the Crossroads
On our journeys and in our stories, we sometimes find ourselves at a crossroads, where a companion or stranger may offer a gift of story or advice. The words clarify our choices, direction and perhaps destiny; providing hope and encouragement when needed. At other times, we are the ones offering that helpful story or bit of advice. Join us to share reflections on occasions where we received or gave advice that changed direction.
OARS in the Water is a facilitated Zoom gathering on the second and fourth Wednesday of the month 7:00pm-8:30pm Eastern Time offered by Healing Story Alliance to create a listening space to share the experiences and stories that have emerged through this turbulent time. This is not a therapeutic circle but we do hope it will be healing, supportive and inspiring.
About our hosts who have been described as the Three Musketeers of Storytelling……
Mike Seliger brings experience as a community organizer in New York City; a role in higher education, studies as a mime and clown to his storytelling. He refers to himself as a Creative Communicator, because "I use whatever vehicle makes sense to get an intended message across —whether it's story, poetry, visual media, or quiet compassionate listening." He is a long time member of the HSA Advisory Committee and has been actively supportive of Oars in Water since its beginning.
Michael D. McCarty is a multicultural storyteller of African, African-American and International Folktales, Historical tales, Stories of Science, Spiritual stories as well as stories of the brilliant and absolutely stupid things he has done in his life! His stories inform, educate, inspire and amuse. His storytelling style is energetic and enthusiastic. Michael has traveled to many countries and his travels have reaped a harvest of tales that testify to the unity within the diversity of the human spirit. He has been at many crossroads.
Joe Doolittle is a member of the HSA Advisory Committee. A retired healthcare executive, he is an accomplished storyteller and producer based in upstate New York. He tells personal stories and has a repertoire of historical tales about the Hudson and Mohawk Valleys. Joe is active in community affairs and is a volunteer chaplain at the Albany Medical Center. The latter experience, coupled with his active role as a Deacon in his congregation have stimulated his interest in spirituality and healing. Joe has lingered at crossroads,
Break Out Prompt: Share a moment when you either received or gave advice that changed the direction of you or the person involved.

ABOUT the Healing Story Alliance Website
This website offers resources, guidance and practical applications for storytelling, revealing and reflecting the many facets of healing story in the world today and in the past. In addition to bibliographies, and links, there is a library of articles on Healing Stories and Storytelling. Our acclaimed Journal, Diving in the Moon: Honoring Story, Facilitating Healing, is available from 2013-2017 as an e-journal on the HSA website.

All authored writing on the Healing Story Alliance website is the copyrighted property of its author. These resources are intended for not-for-profit educational use. Any commercial use of resources on this website must be arranged directly with the author of the text or video.
Many are drawn to our site in search of answers or resources for dealing with the pain and tragedy of turbulent current events in the personal, social and global realms. This interest is addressed in our compilations of stories which we encourage you to explore.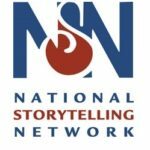 HSA has been a long standing Special Interest Group of the National Storytelling Network. It then became fiscally sponsored by Story Arts Inc, a NY state 501(c)(3) arts organization dedicated to the fine art of storytelling and to its educational applications. As a subsidiary project of Story Arts Inc., HSA functioned as a not-for-profit arts organization under Story Arts Inc.'s fiscal umbrella. HSA has now established it's own not-for-profit organization in New York State and has received the IRS recognition as an independent 501(c)(3) not-for-profit organization.