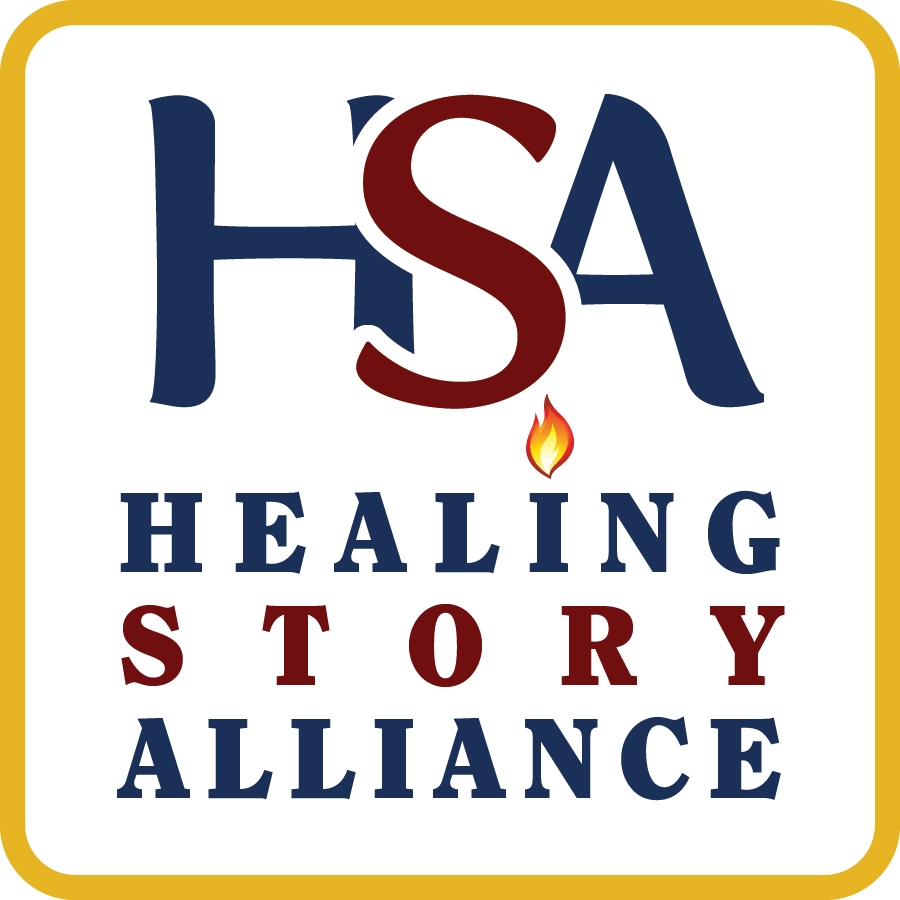 Keeping our Oars in the Water:
Gathering to bear witness to experiences
and stories of vulnerability and resilience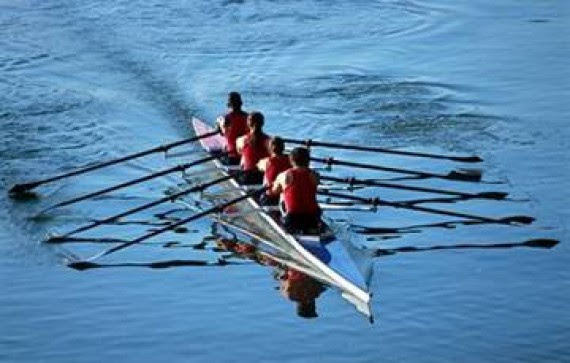 When a small boat meets turbulent water, the best way to maintain balance and stay upright is to keep your oar in the water. It will become your stabilizing rudder, enabling you to maintain course and steer your vulnerable craft towards safety. We are each like that small boat.
HSA hopes that sharing our experiences, stories and ideas might be another stabilizing oar in the water for each of us. Please join us. Admission is free, although donations are appreciated.
---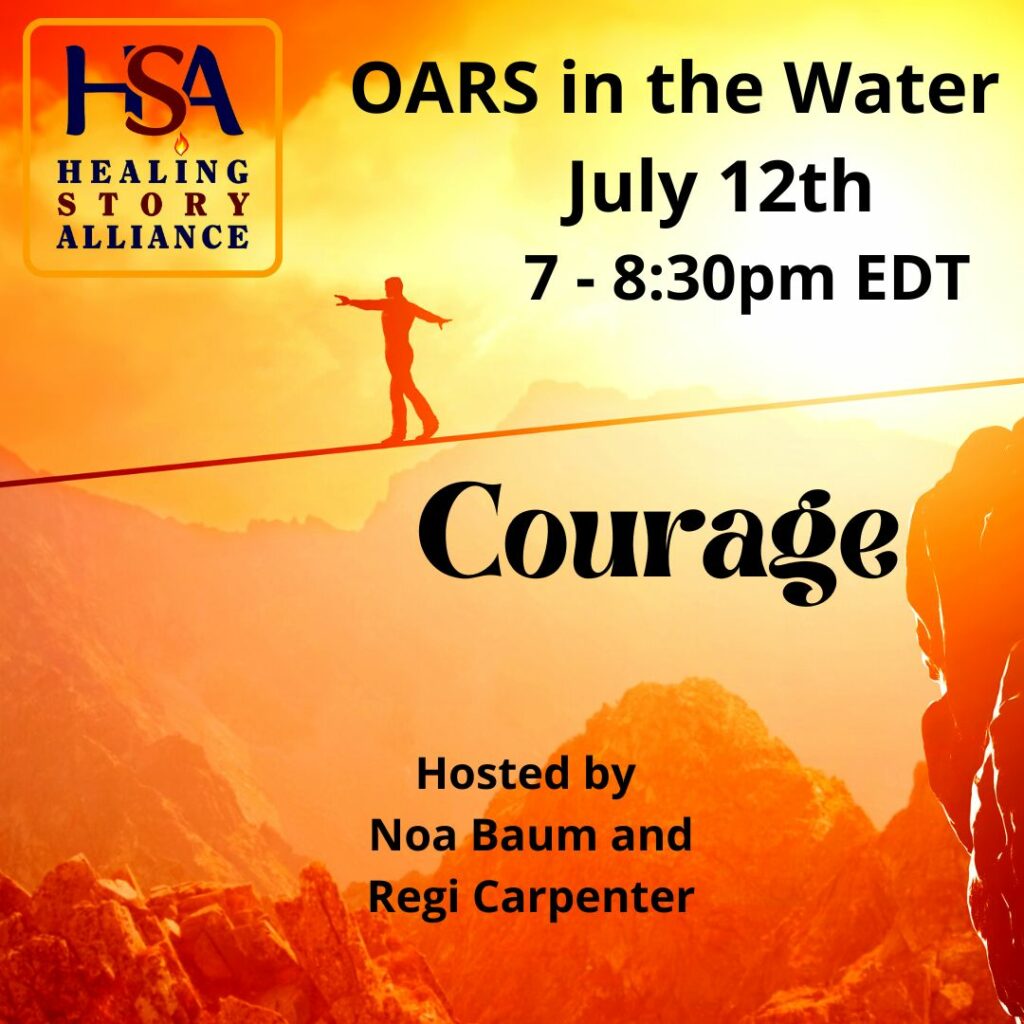 OARS in the Water is a facilitated Zoom gathering on the second and fourth Wednesday of the month offered by Healing Story Alliance to create a listening space to share the experiences and stories that have emerged through turbulent times. This is not a therapeutic circle but we do hope it will be healing, supportive and inspiring.
Admission is free, although donations are deeply appreciated and help support our programming. Your tax deductible donation can be made below.
About our Hosts for July 12th
Booklist describes Regi Carpenter's work as "an empathic voice that leaves you wanting more." Regi is an award winning international storyteller, author and coach. She is working with medical professionals to include stories as medicine that calms and comforts. Her award winning book "Where There's Smoke, There's Dinner" chronicles growing up in a small town on a big river with an undercurrent.
Noa Baum is described by the Washington Post as someone who "spreads cultural truths that eclipse geopolitical boundaries…". Born and raised in Israel, Noa is an award-winning storyteller, author and coach focusing on the power of narrative to heal across divides of identity and build bridges of peace. She was an actress at Jerusalem Khan Theater, studied with Uta Hagen in NYC and holds an M.A. from NYU in drama therapy. Noa presented at The World Bank; Mayo Clinic; NSA; National storytelling Festival, Kennedy Center; USDA, and Stanford University. Noa's memoir A Land Twice Promised won several awards including the Anne Izard Storytellers Choice Award. How the Birds Became Friends is her new children's book.
---
2023 OARS Meeting Hosts & Dates
Jan. 11: Galen Brandt & Jackson Gillman (Tech: Lani)
Jan. 25: Heather Forest & Lani Peterson (Tech: Joe)
Feb. 8: Sara deBeer & Donna Marie Kuczynski (Tech: Karianna)
Feb. 22: Lani Peterson & Linda Levinson (Tech: Elisa)
March 8: Elisa Pearmain & Faye Mogenson (Tech: Heather)
March 22: Penny Post & Joe Doolittle(Tech: Karianna)
April 12: Mike Seliger, Michael D. McCarty & Joe Doolittle (Tech: Elisa)
April 26: Heather Forest & Galen Brandt (Tech: Lani)
May 10: Bob Kanegis & Liz Mangual (Tech: Noa)
May 24: Sara deBeer & Donna Marie Kuczynski (Tech: Elisa)
June 14: Elisa Pearmain & Ai-Lin Chuah (Tech: Heather)
June 28: Jim Brule (Tech: Lani)
July 12: Noa Baum & Regi Carpenter (Tech: Heather)
July 26: Heather Forest & Sara deBeer (Tech: Karianna)
August 9: Karianna Rosenberg & Lani Peterson (Tech:________)
August 23: Elisa Pearmain & Diane Rooks (Tech: Joe)
---
2022 OARS Meeting Hosts and Dates
January 12th: Sara deBeer & Ruth Anne Faust
January 26th Kristin Pedemonti & Sarah O'Brien
February 9th Lani Peterson and Jyoti Pande
February 23rd Mike Seliger and Liz Nichols
March 2nd, Laura Simms and Lani Peterson offer a special holding space for Ukraine
March 9th Karianna Rosenberg and Jan Mullen
March 23rd Joe Doolittle & Phyllis Blackstone
April 13: Heather Forest & Lani Peterson
April 27: Elisa Pearmain and Nyanna Tobin (Tech: Heather)
May 11: Sara deBeer and Hearscrow (Tech: Elisa)
May 25: Wally Scott and Radhieka Al Hakawati (Tech: Joe)
June 8: Galen Brandt and Jackson Gillman (Tech: Heather)
June 22: Heather Forest and Noa Baum (Tech: Elisa)
July 13: Karianna Rosenberg and Penny Post (Tech: Lani)
July 27: ANNUAL MEMBERSHIP MEETING (Tech: Heather)
August 10: Joe Doolittle and Ai-Lin (Tech:Elisa)
August 24: Sara deBeer and Jyoti Pande (Tech: Lani)
September 14: Heather Forest and Megan Wells (Tech: Lani )
September 28: Lani Peterson and Karen DeMauro (Tech: Elisa)
October 12: Elisa Pearmain and Erin Johnson (Tech: Joe)
October 26: Mike Seliger & Regina Ress (Tech: Heather)
Nov 9th: Joe Doolittle & Penny Post (Tech: Elisa)
Nov 23: Elisa Pearmain & Usha Venkatraman (Kristin)
Dec. 14: Heather Forest & Jim Brule (Tech: Elisa)
Dec. 28: Laura Simms & Donna Jacobs (Heather)
2021 OARS Meeting Dates & Hosts:
September 22 : Hosted by Heather Forest & Lani Peterson
October 13: Hosted by Sara deBeer & Jean Hale
October 27: Hosted by Joe Doolittle & Mike Seliger
November 10: Elisa Pearmain & Laura Simms
November 24th: Heather Forest & Karianna Rosenberg
December 8th: Wally Scott and Carol McCormick
December 22nd: Kristin Pediemonte & Galen Brandt