Jamaica Plain Gazette  July 12, 2019
Some of storyteller Diane Edgecomb's most popular events are her Summer solstice events with Margot Chamberlain, a Celtic harpist, at Arnold Arboretum. These events are limited to around 30 people maximum, she said. However, at this past weekend's event, the 18th, she said they were sold out "well in advance," so they allowed about 44 people to attend.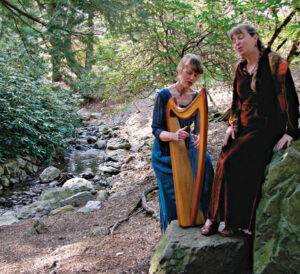 Edgecomb said that one of the most unusual things about these events is that they are about traditional storytelling. She tries to approach stories as if they are a person. She is encountering. "A story is a messenger, it's a traveler, and I want it to arrive with integrity to be able to touch so many of us who feel out of touch with nature," she said.
That notion is another huge theme with the Arboretum event—Edgecomb said she feels that the modern, busy world we live in makes us feel disconnected from nature, and in telling these stories, she helps her listeners focus on the meaning that can be found in nature and help them reconnect.